-article contributed  by Trogdor
I think the first time I saw Plagueworms they were done by HoHo the Conqueror. I was blown away at the concept. It wasn't a crazy hard conversion, but the effect was so nice and thematically it fit perfectly. I knew one day I would have to follow suit when I made my Nurgle Legion and now that I've started, I figured I take you all along for the ride.
First thing to do is to clip off the legs with either some heavy duty side clippers or you can use a modeling saw. Don't try it with a hobby knife. It will take you forever and it's much more dangerous than the saw or clippers. In the pic below, you'll actually see that I cut off the blades of the Plaguebearers too. If you like them, go ahead and keep them. I'm not a fan, so I took them off and replaced them using an idea I saw that Qrab did. More on those blades later.
The next thing to do is to pin the bottom of the bodies to the base. I use a drill and sink my pin in deep. I also use a good length of pin to leave room for the body of the worm. You'll want to take notice of where you pin the body to the base and make a mental note of how the body will have to bend to fit nicely on the base. You'll also see that I make a sharp L bend in the bottom of the pin. I do that so I have more to anchor the pin to the base when I glue it down. Much more stable. In fact, if I can, anything that I pin through the bottom of the base will get an L bend in it.
I'm going to make some big nasty cleavers for these guys. I love the big brutal choppy look of the cleaver and it's really easy to do. In the pic above you can actually see how I made some of the blades. I use a thin sheet of plasticard. You can get this stuff online or some places like magazine/comic shops have them. They use them as dividers for different sections of books in a bin. I have a couple of different pieces in the pic below showing a larger piece and how I cut it into strips and then cut it down to the right length and then cut out the rough shape. You can cut these blanks out simply with a pair of scissors if the plasticard is thin enough.
Once you have the general shape you want for your blade, create the edge. I use a sharp Xacto knife and cut the blade side at about a 45 degree angle on both sides as shown in the pic below.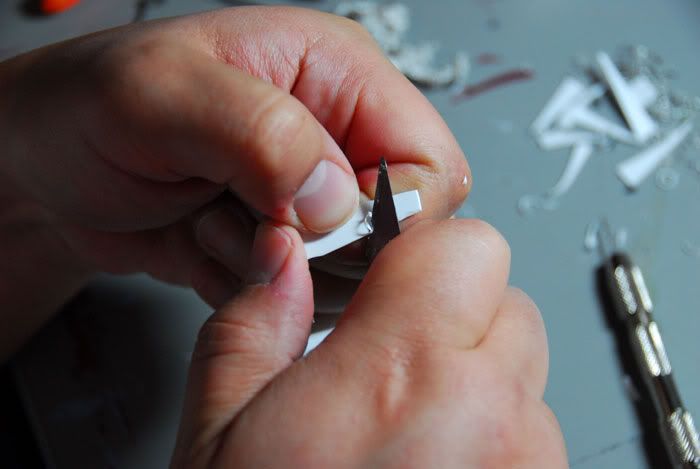 Now, don't worry about getting a perfectly straight and even sharp edge. If you were making blades for someone besides Nurgle, maybe you'd worry about it. In that case, you can even use a file to help with making your edge. Nurgle like things brutal and choppy though so make the edge in multiple cuts with some deeper than others and you'll start to see how mean these cleavers can be. I also like to notch up the cleaver all around to give it the feel like it has been in heavy use and been used for blocking etc. Once you have your edge the way you like it, I like to dedicate these blades to Nurgle by drilling out 3 holes in them like how the mark of Nurgle looks. Then I'll pin the blade so it can be securely fastened to the model. If you don't pin it, I can't imagine the blade staying on even with gobs and gobs of glue. Use a small bit and small guage wire and drill straight into the blade.
Pin the blades to the Plague Bearers and you'll end up with something like this.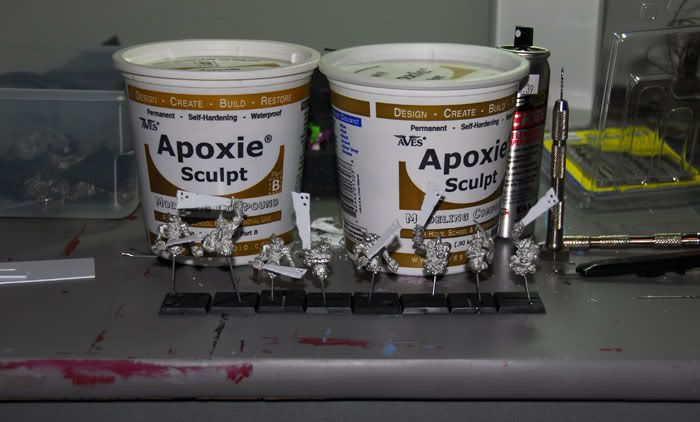 I've also shown what I'm going to use for the sculpting of the bodies. It's called Apoxie Sculpt and it's a 2 part epoxy putty that is used pretty much like Green Stuff. It's pretty inexpensive especially compared to Green Stuff. I used it for projects that will have quite a bit of bulk and don't need extremely fine detail. Green stuff has better elasticity and holds fine detail better but for these worm bodes, this stuff works perfectly. It cures harder than green stuff and is available in many colors. Mine is white. When HoHo first did his, I believe he used Crayola Magic Sculpt. It is also easy to work with and inexpensive but doesn't cure rock hard like  Apoxie Sculpt or even GS does.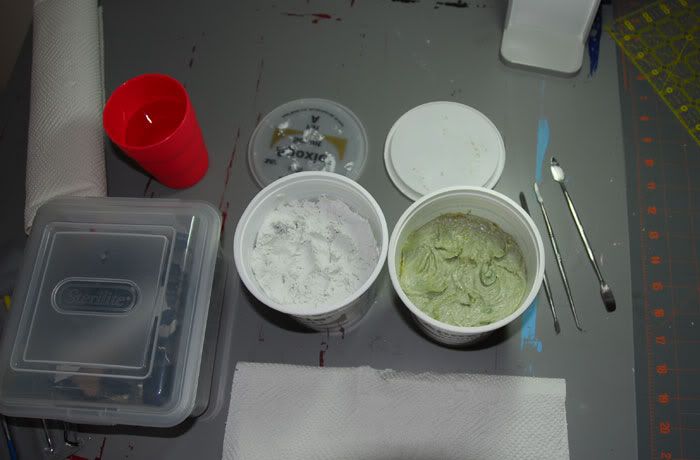 You mix it in equal parts of A and B and knead it like you would Green Stuff until it is non-streaky. It smooths very nicely with just a little water so I prefer this stuff where a smooth surface is required. While it may not hold the fine detail like Green Stuff, it does smooth up easier. It does leave some residue on your fingers as you mix it but that comes off very easily with some water. Once it is mixed, I roll out a length of the putty and begin to wrap around the pin.
From here, you have to experiment a bit with what look you want. You can go for a smooth slug like body or the caterpillar rolls or anything else. Use your imagination and make Papa Nurgle proud! Pay attentention to where the body bends where it meets the ground. You'll want this to look natural so Google up some images for a reference. Once you're done, base the model to your liking and start painting! I used a mix of wall plaster, sand, and white glue for my bases.
Paint them up however you like and start enjoying these guys in battle! I'll probably try and do similar things for my Plague Riders and I'll post up some pics of those when I get them done. Here is the finished project. Hope you enjoyed the read.